1. Realism Name: (First and Last) (Please, no famous or infamous German names, be it from history or movies)

Erich Von Bayerlein

2. Age: (We currently have an age restriction of 18 and up)

41

3. Country:

Belgium

4. Previous Realism Units/Clans:

None

5. Were you dishonorably discharged from any of the above Units/Clans?:

No

6. How much time a week do you have to commit to the 10.SS?:

That is hard to predict, having to work a irregular times (different shifts, weekends as well)
Probably maximum two times a week. I have a family to look after as well... .

7. What does realism play mean to you? (I suggest writing more than a sentence.)
Well, I kind of rolled into it, being interested for years (even decades) in history in general and military history in particular. Most of the games I tried over the years lacked historical realism, ranging from the types of uniforms, ballistic values of differents guns/weapons, ground pressure of vehicules, etc. Finally I found satisfaction for the first time with Red Orchestra, and now this game is even more historically realistic (althoughs some maps aren't at all, but hey who is perfect?)
Besides of all this, there is of course also a fun factor. For me, this is a game! Not real life.
I consider humor as vital as ammo in this game.

8. Why are you choosing the 10.SS Panzer-Division? (Also suggest more than a sentence.)
Because you're NOT a neo-nazi organisation.
Because several of your members invited me to join.
Because you look like a fun group.
Because I'm probably the eldest, and it looks like you're all in need of some sort of grandfather :-)
Because of the battle record of the real 10SS PzDiv.


9. Where did you hear about the 10.SS Panzer-Division? (Forum, server, etc...?)
During play at public servers and while chatting with some of the members.


10 .Do you have a working Microphone or Headset? (Required):
I don't have a microphone, perhaps you should have put this question on number one? I hope this is not an unsurmountable problem... considering my age, perhaps? ;-)


11. Steam ID (this is your login / account name. Not a numerical sequence) :
IkarusMaximus

12. What is your preferred in-game weapon?:
On the one hand the MG, on the other hand the old rifle. No bomb shatels for me, thank you!

Thank you for reading all this.





Posts

: 1


Join date

: 2012-03-06


Age

: 48


Location

: Belgium



-----

Von: SS-Panzergrenadier-Regiment 21 Hauptquartier

Zu: SS-Bewerber Bayerlein

-----


SS-Bewerber Bayerlein,


Your application has been reviewed and accepted for an interview. Your name on the website will be changed in line with the realism name you have chosen, if you check your private messages you will find a PM containing all the necessary information to begin your career with the 10.SS Panzer Division.


Viel Glück


---



- SS-Oberscharführer Alois Hertz

_________________________________________________
"History is always written by the victor, and the histories of the losing parties belong to the shrinking circle of those who were there."
-
Joachim PeiperAlois Hertz


SS Panzergrenadier Regiment 21./ 1.Kompanie/ 1.Zug


Oberscharführer u. Zugführer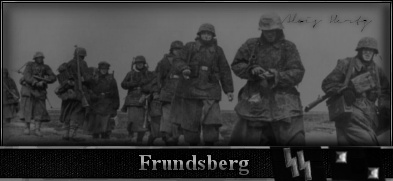 Posts

: 270


Join date

: 2011-07-26





Similar topics
---
Permissions in this forum:
You
cannot
reply to topics in this forum