1. Realism Name: Siegfried Rothschild


2. Age: 25



3. Country: Sweden



4. Previous Realism Units/Clans: N/A



5. Were you dishonorably discharged from any of the above Units/Clans?: N/A



6. How much time a week do you have to commit to the 10.SS?: Every day untill August, weekends after the 6th of August when I begin work. This should include friday evenings but might differ depending on overtime and such but I will be informing if such things occur in good time.



7. What does realism play mean to you?: To act, work, and plan as a group, to be able to feel a bit of realism instead of the normal, go in and shoot your brains out. It's a good change of pace from the usual, something that can make your hard work feel justified. Because at the end of the day, when you've succeded in a skirmish you feel that you've accomplished something, not just your run of the mill shootfest.


8. Why are you choosing the 10.SS Panzer-Division?: To be quite honest, I've never played in a division before and never really thought about it either. So when a friend of mine asked me to check it out I did. And I liked what I saw, dedication and what looks as a great group of people to grow alongside with.


9. Where did you hear about the 10.SS Panzer-Division?: A friend of mine, Jens Eisenberg he's called on these forums if I'm informed correctly.


10 .Do you have a working Microphone or Headset? (Required): Yes I do.



11. Steam ID (this is your login / account name. Not a numerical sequence) : MarCc, if it seems impossible to find I would advice looking through Jens Eisenberg's friendslist as I should be able to be found there.


12. What is your preferred in-game weapon?: I've allways had a preference for mid to long range firearms. Otherwise fully automatics for close quarter combat. No specific weapon as of yet.



Posts

: 4


Join date

: 2012-07-20



-----

Von: SS-Panzergrenadier-Regiment 21 Hauptquartier

Zu: SS-Bewerber Rothschild

-----


SS-Bewerber Rothschild,


Your application has been reviewed and accepted for an interview. Your name on the website will be changed in line with the realism name you have chosen, if you check your private messages you will find a PM containing all the necessary information to begin your career with the 10.SS Panzer Division.


Viel Glück


---



- SS-Oberscharführer Alois Hertz

_________________________________________________
"History is always written by the victor, and the histories of the losing parties belong to the shrinking circle of those who were there."
-
Joachim PeiperAlois Hertz


SS Panzergrenadier Regiment 21./ 1.Kompanie/ 1.Zug


Oberscharführer u. Zugführer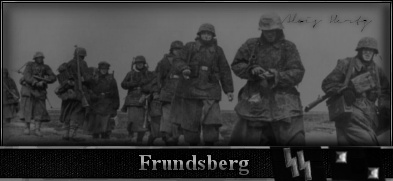 Posts

: 270


Join date

: 2011-07-26





Similar topics
---
Permissions in this forum:
You
cannot
reply to topics in this forum