DANKE !

My names Alex, but i perfer u call me fila im 17 living in canada but im polish

hope we can make great progress together as a team, i have great ideas willing to share and always like to flank the enemy position, im a great tank warfare kinda guy, fast reaction stuborn kinda guy and i really have an interest in ww2 !

My grandfather got shot 9 times during the ww2 he was in stalingrad and survived it was a shame that he died from a heart attack at the age of 58
Hello Fila! It was good meeting you on the server today.

Be sure to post an application and look carefully at the Sticky posts in the Rekrutierungsbüro forum! All you have to do is copy the application format and answer the questions, and post it as a separate post there - if there's any confusion, look at existing applications.
Don't worry about the "18 and above" age limit mentioned in the application; we make plenty of exceptions for maturity.
_________________________________________________
---
Scha. Lorenz Georg
Panzerführer
Pz.Kpfw.IV "Martha"
---
SS Scharführer





Posts

: 278


Join date

: 2011-07-27


Location

: Newfoundland, Canada



Alright thanks im on it right now

see you on the battle field comrad !
Hope to see you on Sunday.
Willkommen!

I hope you enjoy your time with the unit!


Regards,


-Alois Hertz
_________________________________________________
"History is always written by the victor, and the histories of the losing parties belong to the shrinking circle of those who were there."
-
Joachim PeiperAlois Hertz


SS Panzergrenadier Regiment 21./ 1.Kompanie/ 1.Zug


Oberscharführer u. Zugführer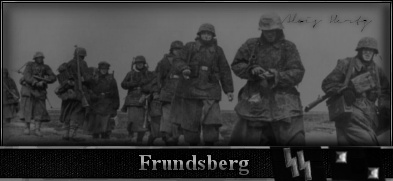 Posts

: 270


Join date

: 2011-07-26





Similar topics
---
Permissions in this forum:
You
cannot
reply to topics in this forum