I'm honoured to meet you all here !

My game Id " Hans Heitmann " is the real identity of my German grandpa. This one was 17 old when he was enrolled in the glorious Prussian army... That was in late 1916 ! He fought on the Westfront, principally during the "chemin des dames" battle (april 1917), and then in the flanders and the somme sector. He was honoured with both EK 2 and EK 1 for his actions, and was severely injured by gas, during winter 1917.
During WW2, he served as Flakoffizier, in the Braunschweig area. He died 1977, from direct consequences of his 60 year old gas intoxication... All my young years imagination were feeded with the stories he told me about his time as "Frontschwein".
My father, Who was french, was 19, when he joined de Gaulle in early 1944. He was enrolled to French first army and became a SHERMAN tank driver. He fought first during the Alsace campaign, and then up to the junction with soviet troops at the river Elbe.

Concerning myself, I'm 46, married (sorry she's first too...), with two magnificent daughters aged 13 and 15.
I'm actually an NCO in the French military police, the Gendarmerie Nationale, but I'll soon leave to become a manager in a private security company.
Concerning foreign languages, I'm fluent in French and German, and I also try to be not too bad in English...

I was really interested by our division, because of its historical and realistic approach.
You'll find in me an in-defective Kamerad, and a brave soldier !

Now it rests me to wish you all a happy new year, Guten Rutsch und Sieg Heil !

"Gott mit uns"
SS Anwärter




Posts

: 2


Join date

: 2011-12-28


Age

: 53


Location

: Metz, Lothringen, Frankreich, Europa



Willkommen!

Thats quite a family history you've got there, I hope you enjoy it here. We are a nice enough group of friends (Except Dibbo) I wish you nothing but the best here!



Regards,


-Alois Hertz

_________________________________________________
"History is always written by the victor, and the histories of the losing parties belong to the shrinking circle of those who were there."
-
Joachim PeiperAlois Hertz


SS Panzergrenadier Regiment 21./ 1.Kompanie/ 1.Zug


Oberscharführer u. Zugführer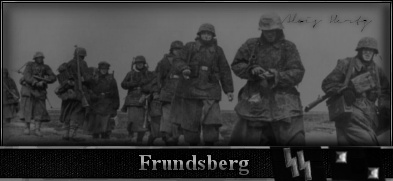 Posts

: 270


Join date

: 2011-07-26



We hope you'll enjoy your time with us! With any luck, any Ventrilo problems you may have will be sorted out.
_________________________________________________
---
Scha. Lorenz Georg
Panzerführer
Pz.Kpfw.IV "Martha"
---
SS Scharführer





Posts

: 278


Join date

: 2011-07-27


Location

: Newfoundland, Canada



holy cow dude nice story! My grandfather fought for the Wermacht in WW2 as well and his name was Joseph Svoboda, he was a Czech. volunteer forced to fight for Germany.



Posts

: 51


Join date

: 2011-07-29


Location

: H-Town, Texas




---
Permissions in this forum:
You
cannot
reply to topics in this forum