Hallo Alles!

Great to meet you all (well the ones I've met so far!)

Thank you all for the opportunity to become a recruit with the 25. Infanterie Division.

Well enough of the formalities ... Wassss uppp?

lol My name is Aaron Würch (Wuerch in english alphabet). I am from Canada, Vancouver to be exact.

As from what my Application already says I have numerous experiences with realism clans. I have always been facinated with the Wehrmacht from stories from my Grandfather. So this is perfect for me ..

cheers

add me on steam, im in the group !
Willkommen zur 25. Infanterie-Division!

We're glad to have you as a Rekrut, and Viel Glück with the trial period!

Feel free to share some of your grandfather's war stories here. A couple of our members have real-world military experience, and many of us have relatives/ancestors who fought in the World Wars.
_________________________________________________
---
Scha. Lorenz Georg
Panzerführer
Pz.Kpfw.IV "Martha"
---
SS Scharführer





Posts

: 278


Join date

: 2011-07-27


Location

: Newfoundland, Canada



Alittle more about me personally ...
I am 20 years old. I am the Director of Sales/Marketing for LinuxMagic (linuxmagic.com). We are a Linux IT support house as well as computer software email providers for Internet Service Providers and Telecommunication.
On the side (just as a for fun extra business with some friends), i am Chief Operations Officer of Web-Develop Internet Services Co. (web-develop.net) we Website Design and Hosting/VPS Hosting/ and internet marketing.
So be nice and maybe my company can make u guys a fully customized professional website with ur own domain

That would help expand us big time.
I have girlfriend that I have been dating for 2 years, and I love her lots, and she comes before games (sorry fellas)

She is going back to Germany (Frankfurt) next week to visit her family, and in December/January after Christmas and i'm going there to drive around gErmany with her, meet her family, and at the same time go visit the grave of my Grandmothers brother, she wants me to put flowers by his grave. He is in Halbe, very small germany war cemetary for World War 2 victims. He died shortly before the war ended, and enduring most of the Eastern Front. Its located about an hour south of Berlin. Wikipedia Battle of Halbe.
Last edited by AaronWürch on Wed Nov 16, 2011 6:13 pm; edited 1 time in total
Sounds like a truly worthwhile adventure to go on!
Understandably so that Girlfriends (& WIVES, as the case may be) come first.

As Georg said though, feel free to share any stories. My father served in the US Navy during Vietnam.

The only Stories from WWII I have was from my Grandmother, who was a nurse serving in England during the D-Day build up. And my Grandfather who was also in the US Navy serving in the Key West Naval Air field.

Apparently, and this is very interesting, that Airfield suffered serious acts of sabotage routinely to keep the Naval Sub Spotters on the ground and out of commission. Effectively got to the point that if you werent Base personal and you were seen on base, you were shot/detained on sight. (usually just shot.)
_________________________________________________
Hschaf. Dietrich Starke                    
Hauptscharfuhrer u. Spieß                   
SS-Pz.Gr.21 1. Kp 1.Zug                      
Zugtruppe                              
Hauptscharführer




Posts

: 130


Join date

: 2011-08-17


Age

: 38


Location

: Charleston, SC



Thanks for the welcome Dietrich!

Sure no problem i'll be more than happy to share some WWII stories from my grandfather. Both my Uncle and my Girlfriends dad were both FSLK200 (Fernspählehrkompanie 200) during the Vietnam to mid-90's time. They have alot of great stories , at the same time great tactics they have told me that could be used to help our in-game scrims.
Willkommen!


Your off to a great start here! Good luck with all your endeavors here and I wish you nothing but success here Herr Wuerch.



Regards.



-Alois Hertz


_________________________________________________
"History is always written by the victor, and the histories of the losing parties belong to the shrinking circle of those who were there."
-
Joachim PeiperAlois Hertz


SS Panzergrenadier Regiment 21./ 1.Kompanie/ 1.Zug


Oberscharführer u. Zugführer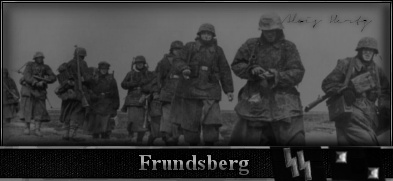 Posts

: 270


Join date

: 2011-07-26



Danke Herr Hertz,

I look forward to the future as well!

mit freundlichem gruß,
Aaron
Wilkommen Kamerade!!!!

Welcome to the unit!!

Great to see another dedicated and mature gamer in the mix, to join our increasing ranks!!

Good to meet you, look forward to getting to know, you as well as fight along side you!!!


Gefreiter Stamper
Hallo Gefreiter Stamper!

Vielen Dank für Ihren freundlichen Empfang!

mit freundlichem gruß,
Aaron
Welcome to the 25th Würch.

As for my family, iv got a Grandfather who fought in the 102nd Infantry Division, "The Ozarks", and from what my father passed down was that he was on a scouting mission at one point during the war, with the rest of his squad i suppose, and he was the only one to return, pretty sad stuff considering they were his friends.
My other grandfather served in the navy, and spent time in Vietnam, he said it scared him being in a jungle after getting dropped off by a Huey and all he had was a .357 Magnum Revolver, and he had to go off to a village to investigate some deaths, he was NCIS. Then he later went on to become secret service for the government, and was a bodyguard for Zbigniew Brzezinski. Afterwards, he joined the Army reserves and made it up to Master Sgt. He sure as hell is proud of serving for his country, he says so almost every time I see him, hes a patriotic badass.
Lastly, my Great Grandfather worked on the Manhattan project as a chemical engineer. I tryed looking his name up, but couldnt find anything sadly... since i never met him.
I also look forward to joining once im done with highschool, try my luck with the Airborne.
_________________________________________________
SS Panzerobergrenadier





Posts

: 85


Join date

: 2011-08-16



Hallo Herr Müller!

Thank you for your warm welcomings !

One story from my Grandfather was he was in a house in france, and I guess it was leisure time and himself and 4 people (including his brother) where in the there having a good time, my grandfather walked outside to have a smoke, and the first (of many to come) high explosive artillery shell hit the room they were in, everyone in that room was virtually incinerated.

mit freundlichem gruß,
Aaron

---
Permissions in this forum:
You
cannot
reply to topics in this forum